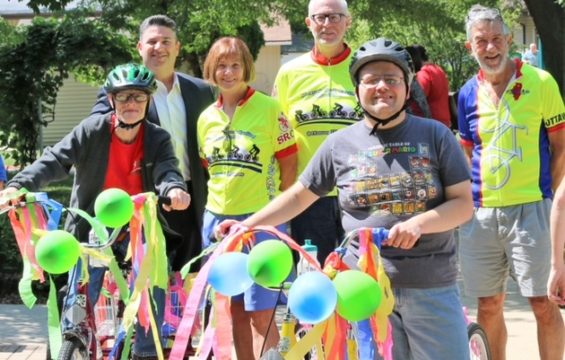 Starved Rock Cycling association takes pride in supporting cycling in the community:
SRCA donated a "fix-it station"  in Ottawa erected at the riverwalk trailhead on Superior Street, across from Fox River Park. Travelers can not fix their bike with an air pump and tools at the site.
SRCA provided 1/3 funding to the City of Ottawa for bike lanes.
SRCA has purchased signage  for posting on the roadways for the 3 foot minimum passing of bicyclist (state Illinois law for motorists) to the Village of Naplate and The City of Marseilles and the City of Ottawa
Providing I-80 Ambucs with donations for the continuation of their mobility and independence for people with disabilities to purchase specialized bicycles.
SRCA members  provide education and demonstrations for events and schools to educate the youth and adults in bicycle safety, helmet wearing, and provide education handouts.
SRCA provides funds and staff  to hold a Bike Fun Street Smart summer course, in conjunction with the Ottawa Parks and Recs, for children entering 4th thru 8th grades.
Funding for a Tandem Tryke Bicycle for Horizon House, Peru, IL for staff to use with residents to enjoy the benefits of bicycling.
Provided funding to Friendship House for maintenance of trikes for their Bicycle program with residents.
We also will take into consideration any bicycle related projects that are presented to us. All we ask is that you read our guidelines/mission and use the form "Request for Funding".
You can also Email us at:
starvedrockcycling@yahoo.com