This year's Pumpkin Pie Ride 2022 is canceled.

Registration closes Friday October 1, at Noon. There is no day of Registration.
 31st Pumpkin Pie Road Route Markings
We use the Dan Henry Marking System: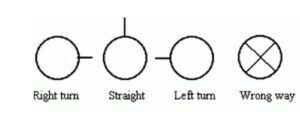 32.5 Mile route marked in Yellow.
50 Mile route marked in White.
68.4 Mile route marked in Green.
102.2 Mile route marked in Blue.
Check-in at registration to get your number for the ride.
If you need  SAG support,know your location: the road &/or intersection and how many miles you have ridden,  so SAG driver can locate you & come to assist, if needed. Pull off the roadway & wait. 
Please have your own tubes for flat tires.
HELMETS ARE MANDATORY.
We will be checking you in/out at all rest stops, please have rider number ready.
 Please remove cycling gloves  and sanitize/wash hands when getting food items.

 All Riders are expected to FOLLOW Illinois RULES OF  the ROAD.
 Watch for Farm Equipment on all roadways.